Do retailers need more from their data? – Look at SAP CAR
Published on 8 September 2021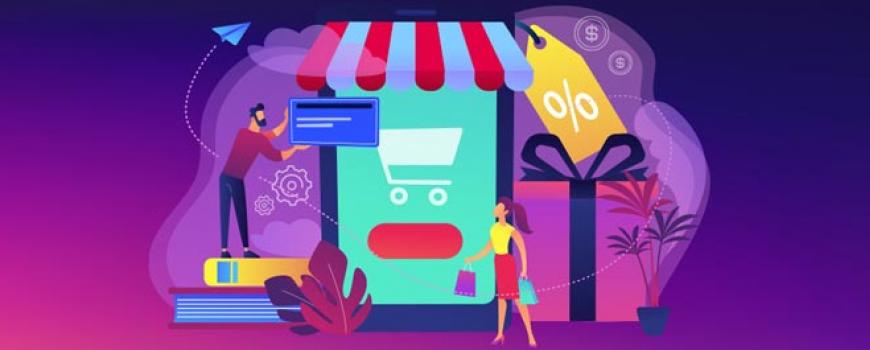 Even before the onset of COVID-19, the retail industry had undergone dramatic changes. Consumers can now shop whenever and wherever they want, and technology has made it easy to compare products and prices among retailers and across channels. 

Retailers who effectively use their data to provide accurate omni-channel executional support and derive innovative and valuable insights will be better positioned to incent and keep a more loyal consumer base.  SAP's Customer Activity Repository (SAP CAR) is the foundation for a retailer's omni-channel support allowing them to be more consumer centric.
Where does SAP CAR fit into the retail landscape?
SAP CAR was initially developed as a replacement for POS Data Management (POS DM), SAP's sales audit solution with basic analytics capabilities. Even though SAP CAR's early use cases were limited essentially to sales audit, as the technology matured, more and more use cases were added, such as omni-channel support and an array of additional executional and planning applications:  omni-channel inventory availability, retail planning, assortment management, allocation management, store replenishment and promotional management.

Today, SAP CAR is the foundation that integrates transactional sales data that is often spread across multiple applications and formats to support omni-channel sales. SAP CAR leverages SAP HANA's real-time computing capability to transfer sales data from stores and Ecomm platforms to SAP CAR and has many built-in standard capabilities for efficient business and operational tasks.  The ability to use CAR for real-time inventory queries from various omni-channel platforms allows retailers to execute orders knowing exactly how much and where inventory is available thereby keeping happy customers coming back.

CAP supports Available to Promise (ATP) capabilities so order orchestration improves CAR and also helps keep the overall SAP environment streamlined while lowering operational costs with fewer systems to support.
Why is SAP CAR important for retailers today?
When it comes to omni-channel support and inventory analytics, POS DM had certain limitations. It lacked the ability to support omni-channel sales and had no support for planning and execution capabilities required to transform the way retailers work in today's fast changing omni-channel environment.

SAP CAR overcomes these limitations by providing near-real-time access to transaction-level omni-channel sales data as well as instant analysis and reporting at the most granular level (TLOG) for POS and individual sales transactions from other channels. With SAP CAR, new data is available for reporting just moments after the sale is completed.  Beyond sales auditing, retailers can use SAP CAR to examine the current inventory status of a specific product across the chain to support real-time inquiries for inventory availability and assess sales performance and promotion efficacy.
Key modules in SAP CAR – Omni-channel Inventory Visibility and Unified Demand Forecast
The SAP CAR solution includes planning applications that allow you to simulate different digital scenarios such as merchandise planning, assortment planning, allocation management etc. However, there are two core components that are foundational and critical for utilizing these planning applications: Omni-channel Inventory Visibility and Unified Demand Forecast.

Omni-channel Inventory Visibility provides retailers with accurate and real-time stock positions across all channels.  This becomes the basis for all omni-channel inventory inquiries and order orchestration requirements.

The Unified Demand Forecast gives retailers more accurate sales forecasts in real- time at a granular level across all channels. This includes robust support for all of the planning applications that lay on top of CAR

Together, Omni-channel Inventory Visibility and Unified Demand Forecasting extend the initial sales audit foundation, allowing SAP CAR to be utilized by all retail planning applications, allowing for better inventory management and lower inventory costs.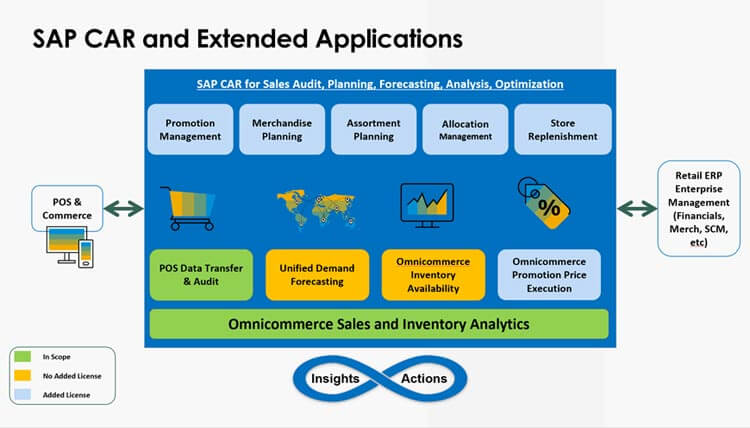 How Applexus adds value to SAP CAR
While SAP CAR has essential and extensive capabilities to support a retailer's omni-channel execution and planning requirements, Applexus has improved SAP CAR's value and power in two key areas. The first is how auditors manage the sales audit balancing process. Applexus created a new, Fiori-based front-end to the CAR audit workbench, making it much easier to use than the current CAR UI. With this new UI, sales auditors can check the front-end to make sure everything is in order and drill down to the exact problematic transactions in the standard UI.

Second, SAP does not offer any standard support for reconciling customer credit cards to sales transactions. For most retailers, this presented a challenging gap in business operations. Retailers typically had to use third-party solutions that often turned out to be slow and costly. Applexus created an add-on embedded in SAP CAR to automate the reconciliation between credit card processor files and sales data from all channels stored in SAP CAR. It provides a side-by-side comparison of sales transactions and credit card processor data that accelerates credit card reconciliation, with increased accuracy and efficiency.

Additionally, Applexus offers SimpleRetail, an AI-powered digital store and consumer experience platform. The platform includes a Store Associate Module which supports store inventory management, sales at POS, BOPIS, and special orders. With features such as intelligent pick scheduling, aisle locator, delivery scheduling and route optimization, SimpleRetail is integrated to SAP CAR to deliver a superior and personalized shopping experience while building efficiencies across channels.
Live business case study – Applexus implementation of SAP CAR without SAP ERP back end
A leading beverage retailer in the US was looking to replace their legacy POS and sales audit systems with GK Software's POS system and SAP's Customer Activity Repository (CAR), running on SAP HANA. As the client was not running on SAP ERP, Applexus designed custom interfaces to the client's other legacy systems for master data, sales order systems, and finance.

In addition to SAP CAR sales audit, Applexus also delivered custom credit card and media reconciliation capabilities. The solution supported their multiple sales channels and all the legacy systems. The client also realized multiple benefits such as
faster sales audit and improved management of audit processes
real time insights into sales and customer data across all channels
Increased forecast accuracy of customer demand that helped reduce inventory costs
Globally, this was one of the first successful implementations of SAP CAR with integration to non-SAP legacy systems and the client was highly appreciative of the innovative way in which Applexus delivered the solution.

To learn more on how Applexus helps retailers leverage insights real-time to increase sales, improve customer loyalty, and provide a consistent customer experience across all channels, please reach out to us at https://www.applexus.com/contact-us