Customer Experience and C/4HANA
Published on 16 September 2020
Customer Experience and Retail
Retail is a fiercely competitive world. While you cannot really control your competition, you can stay ahead of them by getting closer to your customers. After all, it is customer experience that decides whether customers stay hooked to your brand. Customers love to be cared for and do want to be treated as just opportunities to boost sales. By building trust between a brand and a customer, you can create a mutually beneficial customer relationship. Surprisingly, this works more wonders than either data or privacy.
 SAP C/4HANA for Retail
SAP C/4HANA provides the ideal platform to access insights into customer data. C/4HANA helps businesses to build progressive, trustworthy relationships with their customers and win enduring loyalty. SAP C/4HANA is a modern cloud customer experience software suite that utilizes machine learning and microservices technology to deliver customer-centric processes and better outcomes for businesses. It brings together SAP Marketing, SAP Commerce, SAP Sales and SAP Service clouds, which are integrated and scalable according to the needs of a business. With these cloud portfolios working individually as well as synergistically, it simplifies the management of back office and front office sales operation and combines them into a single process chain to foster lasting relationships between customers and brands.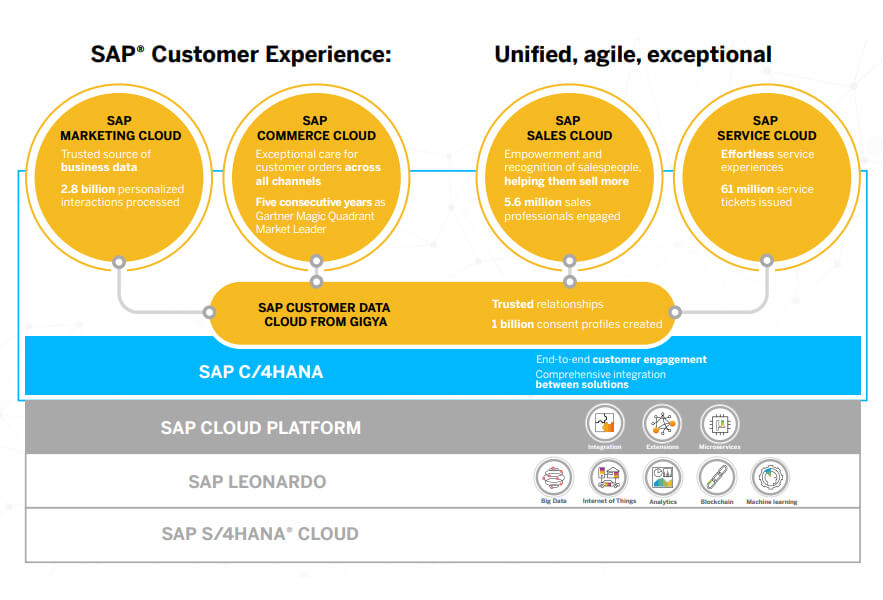 SAP C/4HANA manages the end-to-end business processes and manages customer journey with a single entity right from brand awareness, customer engagement, lead qualification to fulfilment, aftersales and invoicing. By combining information across the customer experience suite with the ERP digital core, SAP C/4HANA gathers intelligence to give a unified supply response for demand signals, plan resources accurately and adapt to dynamic environments while maximizing profit. It makes use of valuable customer information like order history, customer preference, on hand inventory and logistics information to make the most suitable product recommendation, manage inventory and make them available to the customers at the right place and at the right time.
SAP C/4HANA offers
Single view of customer information 
360 degree view of sales automation 
SAP C/4HANA derives its meaning from -- C that stands for customer, 4 for fourth generation and HANA for SAP HANA, which is the platform that supports the solution. Since it is based on transformational technologies like machine learning, internet of things and blockchain, enterprises that adopt SAP C/4HANA will be on a growth trajectory rather than a plateau. "SAP was the last to accept the status quo of CRM and is now the first to change it," says SAP CEO, Bill McDermott. "The legacy CRM systems are all about sales; SAP C/4HANA is all about the consumer. We recognize that every part of a business needs to be focused on a single view of the consumer. When you connect all SAP applications together in an intelligent cloud suite, the demand chain directly fuels the behaviors of the supply chain."
Why SAP C/4HANA is better than legacy CRMs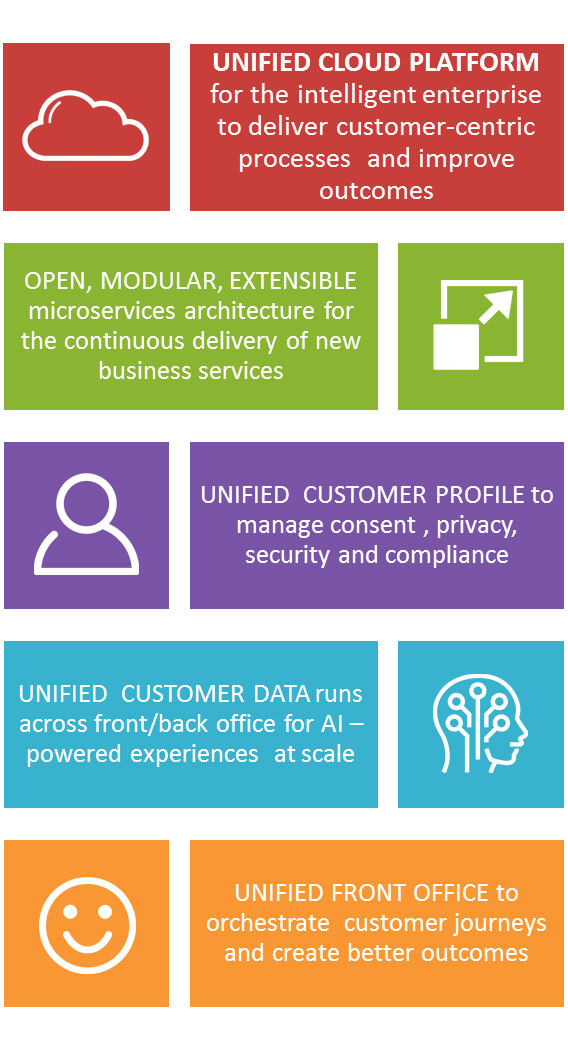 C/4HANA is a combination of some of SAP's major acquisitions such as Hybris, a CRM platform acquired in 2013, and CallidusCloud, a sales performance management and price quote software that was acquired in January 2018. SAP's press release reiterates the same, stating - "Following the completed acquisitions of market leaders Hybris, Gigya and CallidusCloud, SAP now ties together solutions to support all front-office functions, such as consumer data protection, marketing, commerce, sales and customer service."

The idea behind SAP C/4HANA was to bring together a customer experience platform that can take on its heavyweight competitors such as such as Microsoft Dynamics and Salesforce. In his keynote from Sapphire Now, SAP chief executive Bill McDermott stated. "We will not waver; we will not bend until we finally take over the CRM marketplace."